You Can't Afford to Underestimate Your Injuries After an Accident
Posted by Sunshine, Isaacson & Hecht LLP on September 5th, 2023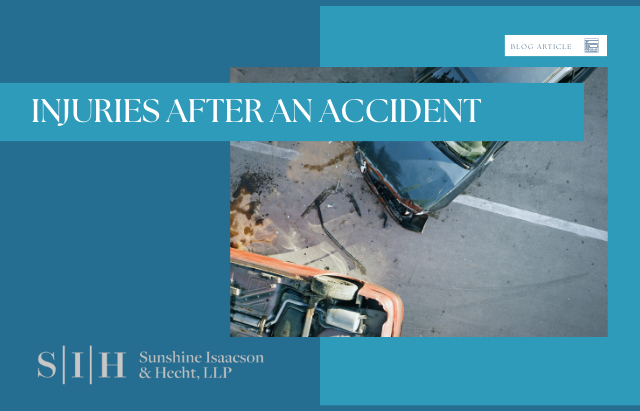 We can't always plan for the twists and turns of life. You might be having a perfectly normal day driving home from work when someone else's reckless actions put your health at risk. The injury risks of a car accident are significant and often deadly.
Still, many people who get in car accidents never suffer a single injury – or at least they think they're fine to walk away from the scene without medical care. We're here to tell you that you need to seek medical attention even if you feel as though your injuries aren't significant. That minor twinge you feel in your neck or back may evolve over time, and if you don't seek medical treatment in a timely manner you may never be able to seek compensation.
Time is of the Essence
It's important to be aware of the statute of limitations for a New York personal injury case. The state is relatively lenient in allowing lawsuits up to three years after a motor vehicle accident. However, some injuries evolve and worsen much later in life.
On top of this, a failure to seek care in the immediate aftermath of your crash makes it more challenging to directly connect your injuries to the accident. You will only be able to seek compensation for injuries sustained and directly connected to the incident in question. If you wait too long and a medical professional is unable to confidently point to where and when the injury was sustained then you may be out of luck.
If the other party is an employee of the state of New York or New York City, the statute of limitations is much shorter. You have 90 days to file a notice of claim and one year after that date to file a formal lawsuit. Each of these deadlines is from the date of the accident itself.
What Happens If Your Injuries Worsen After These Deadlines
Frankly, you missed your window. Medical professionals are unlikely to be able to connect your injuries to the accident and the defense will be able to dismiss the case without much effort. These deadlines exist for a reason (preventing frivolous lawsuits), so you need to be aware of the urgency in the aftermath of your accident.
Talk to Your Attorney Right Away
As soon as you seek out medical attention to take care of your injuries, it's time to contact a New York personal injury attorney. You should talk to an attorney first before you discuss your case with anyone else. This helps preserve your case and allows you to seek compensation for your injuries. Sunshine, Isaacson & Hecht is prepared to handle your case while you focus on your recovery.