Coronavirus and Child Support
Posted by Sunshine, Isaacson & Hecht LLP on May 6th, 2020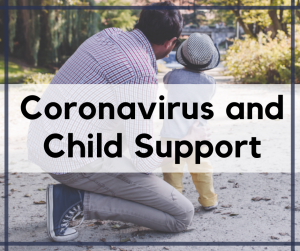 Today we are living in a world that just a few weeks to a month or two ago, most of us never would have imagined. As we face our new reality, we rush to put systems in place that will allow us a semblance of normalcy and keep us closer to our routines and order from before. For parents who rely on child support payments from their formal partners, there's a big question looming: How will coronavirus impact child support? While things are still somewhat up in the air and some particularities may depend on how long our present situation lasts, we are doing our best to answer this question today.
Your former partner may not be able to afford to pay you.
Across the nation, people are losing their jobs. Whether it's because they closely interacted with the public in their job and can no longer work due to shelter-in-place orders or because their company decided to make cuts to deal with the dip in the economy, the financial repercussions of job loss mean that a lot of people who owe child support may be struggling to pay it. If your former partner, like so many, has suffered from a layoff, he or she may not currently be able to pay you the money you are owed.
A variety of new obstacles to overcome.  
If your former spouse made in-person payments at a Support office location, or even in-person to you, he or she may not be able to do so.  Moreover, if he or she lost employment, the entire family is going to be affected whether you are happily together, separated, divorced, or otherwise.  Normally there are legal mechanisms for both sides of the equation – the payor can request that support be modified downward in accordance with their job loss and the other can request enforcement remedies – but right now, the courts are not open to either type of request.  The best that you can do is to contact an attorney who can take steps to preserve your rights, now, even if those rights cannot be enforced until later.
What you should do: don't wait!
If you are on either side of this problem, you may be feeling stuck.  Whether you are a parent who needs to pay child support or one who relies on payments to care for your children — our team is here to help. Give us a call today to discuss your options!  The options may not be perfect, or exactly what you want, but it is better to be proactive and take steps to protect yourself than to do nothing!